Welcome to our website! We at Gaoyuan are an experienced intelligent asphalt rubber plant manufacturer, located in China. The product shown in the picture is our GYXL1608 asphalt rubber plant, which mainly consists of rubber powder batching system, fast heating-up device, reaction kettle, and automatic electrical control system. Having the advantages of high mixing efficiency, conduction oil heating, corrosion resistance and ease of use, our products are very popular with customers all over the globe.
Technical Parameters, Configurations of Intelligent Asphalt Rubber Plant
Item
Parameters
Unit
Model
GYXL1608
Productivity
6-8
t/h
Total Installed Power
100
Kw
Fast Heating-up Device
Heating capacity
80x104
kcal
Heat exchange area
32
m2
Heat exchange coefficient
25(20t/h)
℃
Measuring Precision
≤0.5
%
Rubber Powder Charging System
Measuring precision
≤0.5
%
Max. capacity of helical feeder
10
m3/h
Base Asphalt System
Max. flow rate
1300
l/min
Rubber Powder & Asphalt Mixer
Mixer rotary speed
2900
rpm
Mixer power
11
kw
Reaction Kettle
Heating power of burner
20x104
kcal
Kettle capacity
17.5
m3
Max. conveying capacity of asphalt rubber pump
40
m3/h
Mixing speed
198
rpm
Mixing power
11
kw
Working Principle
Using McDonald preparation and production technologies, rubber powder scattering and measuring feeding system can prevent rubber powder charging from being affected by charging time and powder lump, thereby ensuring continuous supply of rubber powder to the mixing and cutting device, where the mixing will be completed with the heated and metered asphalt through fast heating-up system and measuring device and pipelines. After mixing, asphalt and rubber mixtures will be conveyed to reaction kettle with heating and mixing device by large displacement asphalt rubber pump for full swelling reaction. Finally, the finished asphalt rubber will be pumped to the required places.
Working Process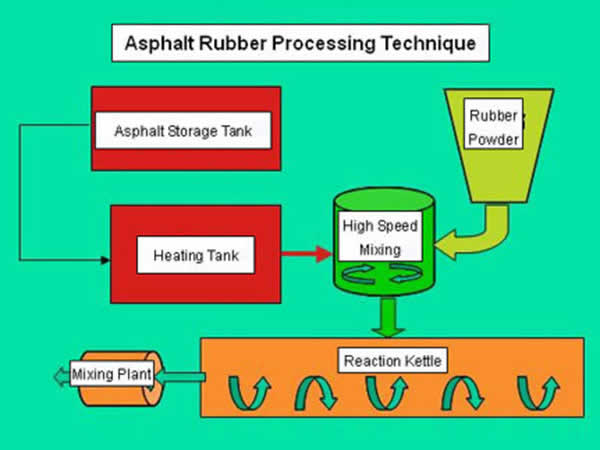 Main Components, Functions of Intelligent Asphalt Rubber Plant
| | |
| --- | --- |
| Components | Functions, Technical Data |
| Rubber Powder Batching System | Consisting of hopper, scattering device, batching screw and metering screw; conveying metered rubber powder to the rubber powder and asphalt continuous mixing and high-speed cutting device; helical balance meters accurately; metering screw operates at a constant speed, an electrical proportional valve is used to regulate the batching screw. |
| Base Asphalt Heating-up Device | Large heat exchanger of cross circulation transfers heat through HTF to heat up the base asphalt for 25-30℃ at the speed of 20t/h in the interval of heat exchanger circulation. |
| Rubber Powder & Asphalt Continuous Mixing and High-speed Cutting Device | Mixing the metered rubber powder and asphalt with rotary speed up to 2900rpm; due to the use of our patented high-speed rotary cutting technology it can scatter the aggregates and distribute the rubber powder evenly in the binders. |
| Reaction Kettle | Mixture reaction vessel; specially-designed mixer prevents asphalt rubber from segregation in the tank, contributing to complete mixture reaction; speeding up heat transfer to make full use of heat energy for reduced production costs; double heating system and heat insulation device keep the required temperature for reaction; external HTF heats asphalt up rapidly. |
| Automatic Electrical Control System | Controlling and monitoring the operations automatically; ergonomic design effectively reduces labor intensity. |
Equipment Dimensions
1) Transportation clearance of asphalt rubber reaction kettle: L*W*H=11000*2500*2900
2) Transportation clearance of thermal oil boiler: L*W*H=6800*2500*2800
In addition to intelligent asphalt rubber plant, we at Gaoyuan also offer asphalt distributor, micro surfacing paver, and other road maintenance equipment, so as to suit all customer's needs. We have accumulated many years of experience and placed it into the creation of our products. Hence, the quality and performance of our road maintenance machines are highly guaranteed. As a result of our tireless efforts, our products are CCC and CE certified, so you can feel secure in using them.
If you have any need for our products, please don't hesitate to contact us. Our staff is waiting to serve you!