Chip Spreader Truck Asphalt Distributor, Chip Sealer 18 Type
Asphalt chip sealing truck, road paving equipment, asphalt emulsion sprayer, chip sealing tuck distributor, we offer asphalt pavement machinery and equipment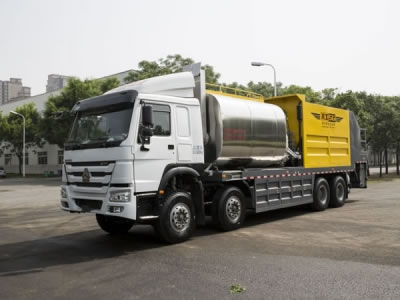 Gaoyuan has been in manufacturing road repair and maintenance equipment since 2004, and is a reliable chip seal distributor manufacturer and supplier. This chip seal truck HGY5318TFC is designed for spreading aggregate chips and spraying liquid asphalt to form pavement evenly, it is equipped two diesel burners to heat asphalt at a high speed. The aggregate is automatically conveyed to the double screw distributing device for spraying again by the spray bar, leading to a highly uniform spray. Therefore, this chip sealer combined with chip spreader and binder sprayer is for making asphalt pavement evenly.
Parameters of Chip Seal Distributor HGY5318TFC:
Parameter
Reference Details
Chassis Model
ZZ3317N4667E1
Chassis Manufacturer
SINOTRUK
Chassis Series
HOWO
Chassis Engine Model
D10.38-50
Chassis Engine Power (kw/hp)
276/380
Emission Standard
National V
Wheel Base (mm)
1800+4600+1350
Total Weight (Kg)
31000
Auxiliary Engine Model
YCD4J23T8-100B
Auxiliary Engine Power (kw/hp)
73.6/100
Asphalt Tank Volume (L)
8500
Feed Bin Volume (m3)
12
Spray Width (mm)
4200
Asphalt Spray Volume (kg/m2)
0.2-3
Aggregate Spray Volume (L/m2)
2-22
Asphalt Spray Precision
1%
Particle Size of Spraying Aggregate (mm)
3-25
Spray Medium
Rubber asphalt, Modified asphalt, Hot asphalt, Emulsified asphalt
Heating Method
Automatic temperature control of conduction oil heating
Heating Rate of Asphalt (℃/h)
20
Optimum Construction Speed (km/h)
3-6
Dimension (mm) (L×W×H)
11980×2500×3860
Please note: Semi-trailer and loader can be customized according to clients' needs.
Chassis(China HOWO National V Special Purpose Chassis)
High load
Low Fuel Consumption
Equipped with 276Kw (380 horsepower) engine for stronger power.
Work System:
Examples