Overview
The tunnel cleaning machine sprays detergent solutions via high pressure on tunnel walls, subway walls and landmarks, and then brushes dirt away.
The cleaning brush for the tunnel washing unit is installed with a two-section articulating boom jack with a 270 degree revolving angle to both left/right and up/down directions so it can brush the interior tunnel wall and be sprayed and flushed clean by a high pressure water pump. A large water tank allows users to clean more at one time and the cleaning brush is removable if needed.
Technical Parameters of the Tunnel Cleaning Machine
| | |
| --- | --- |
| Product model | YDTC0820 |
| Water tank volume | 5000L , STS304 |
| Detergent tank volume | 500L, STS304 |
| Size of tunnel brush | Ø 1000 Í L2000mm, PP |
| Water pump | 0ℓpm, 35bar |
| Max. brushing radius | 4.5m |
Characteristics of the Tunnel Cleaning Machine
1. The cleaning brush, made of special composite materials, has a long service life.
2. With a two-section foldable support boom, the tunnel cleaning equipment can clean a large working radius.
3. The drive unit drives the boom at 270 degree revolving angle, which makes it easy to move the brush and alternate working sites.
4. With an automatic barrier-avoiding device, the tunnel cleaning machine detects the wall and prevents the brush from colliding with it and being damaged.
5. The brush can revolve left and right as well as up down and can be locked in every 30 degrees.
6. The water tank and pipelines are all made of 304 corrosion-resistant SS materials.
7. The detergent tank is laid directly in the water tank better and faster cleaning results.
8. This industrial tunnel cleaner can be installed by both a crane and forklift.
External View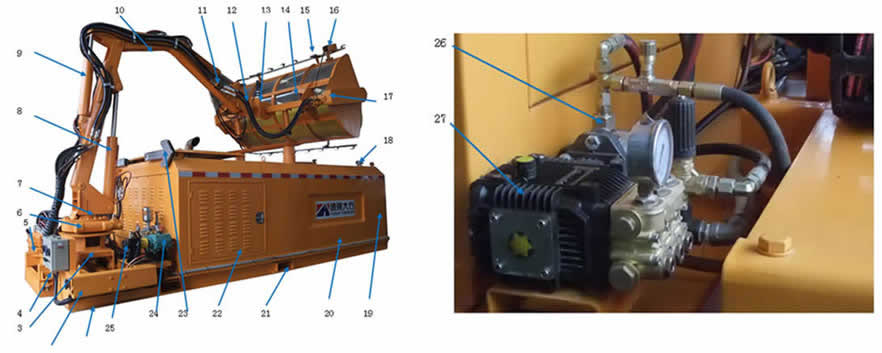 1 Undercarriage
2 Slide guiding rail
3 Pedestal
4 Distribution board
5 Seven-through valve bank
6 Swing drive unit
7 Rotating mechanism
8 Hydraulic cylinder of Boom 1
9 Hydraulic cylinder of Boom 2
10 Support boom
11 Hydraulic cylinder of coupling
12 Coupling
13 Brush deflection fitting
14 Cleaning brush
15 Water spray bar
16 Barrier-avoidance sensor
17 Brush drive motor
18 Filler port of detergent tank
19 Detergent tank
20 Water tank
21 Handling port for forklift
22 Power box
23 Diversion signs
24 High pressure flushing pump
25 Cleaning pump motor
26 Detergent pump motor
27 Detergent pump